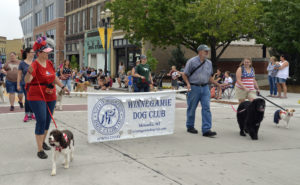 Winnegamie Dog Club will be marching in this year's Neenah-Menasha Labor Day Parade, sponsored by the Fox Valley Area Labor Council AFL-CIO, on Monday, September 2nd, 2019.
The parade will begin in Menasha at Racine & Broad Streets at 10:00 am. Participants should meet in the parking lot area of the Hmong Union Hall (formerly Germania Hall), 320 Chute Street, Menasha, by 9:45 am for line-up instructions.
The parade will travel west down Main Street in Menasha. It will proceed to Tayco Street and then head south, crossing both Tayco Street and Washington Street bridges. The parade will enter Neenah on Commercial Street and continue south. At Main Street, in downtown Neenah, the parade will turn right and head west to the intersection of Church Street and Main Street, where the parade will end.
Please join us to represent Winnegamie Dog Club in this parade. Only club members may bring dogs, but you are welcome to march either with or without dogs. Members do earn volunteer hours for participating in this event.
Please remember to bring clean-up bags, as well as water for your dog.
We will post any updates and maps as we receive them. If you have any questions, please contact Penney Garbe (penney_garbe2000@yahoo.com) 920-858-7441.