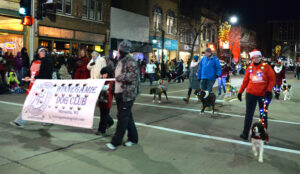 The Appleton Downtown Christmas Parade is scheduled for Tuesday, November 22nd. The parade begins at 7:00 pm at the corner of State Street and College Avenue in downtown Appleton. It travels east on College Avenue to Drew Street.
The parade features about 80 units including colorful floats, decorated vehicles, walking units, animals, and other unique entries. The theme for this year's parade is "Peace on Earth."
Each year, over 80,000 spectators attend the parade. The parade is televised live by WFRV-TV, and streamed live at www.WFRV.com. WFRV also rebroadcasts the parade on November 24 at 4:00pm, November 26 at 11:00am, and December 25 at 5:00pm. The staging map is attached below. We are unit #24 and will meet on State Street between Lawrence Street and Eighth Street.
More information will be posted when we receive the staging information. All members are invited to walk in the parade, with or without dogs. Only voted-in members are allowed to bring dogs. New members may participate without dogs. Everyone who walks will earn three volunteer hours.
Contact Judy Massey (mmasspedx@aol.com) 920-740-5511 with any questions.