ALL TRAINING CLASSES ARE OPEN TO BOTH MEMBERS AND NON-MEMBERS
FOR UPCOMING CLASS TIMES AND DATES, CLICK HERE
FOR OBEDIENCE CLASS REGISTRATION FORM, CLICK HERE
Puppy Obedience (under 6 months)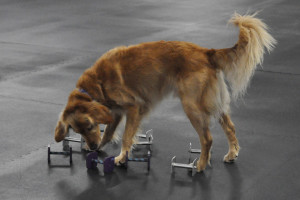 The Winnegamie Dog Club's Puppy Obedience class is the perfect way to give your young dog the right start in life. It is a fun and active class that is geared to the younger puppy's activity levels and attention span. This is a "manners and socialization" class, with an emphasis on FUN and GAMES for building the confidence of your new family member. Your puppy will learn what sit, down and stay mean and how to walk nicely on a leash. You will learn the importance of proper grooming for your breed, how your voice and body language can affect your puppy and basic housebreaking tips and techniques. Puppies must be a minimum of 9 weeks old and have received the vaccinations appropriate for their age. They do not need to be vaccinated for rabies if under 4 months. Bring medical records to the first class.

Puppy Grad Obedience (Prerequisite – Puppy Obedience)
This class is a continuation of the training in the Puppy Obedience class and a transition to more advanced obedience classes.

Beginner Obedience (6 months and older)
Training class is the best way to give your dog the basic requirements to become a good canine citizen! The goal is to have a happy family pet that you can count on to listen to you! Beginner class is for the slightly older dog (over 6 months) with no previous formal training. This class teaches basic obedience behaviors, such as sit, down, stand and stay, as well as walking on a loose leash. You will also work on a reliable recall and basic manners.

Advanced Beginner Obedience  (Prerequisite: Beginner)
This class provides extra practice for those coming from Beginner who are not quite ready for the Beginner Grad class.

Beginner Grad Obedience (Prerequisite: Beginner Obedience)
The Beginner Grad class offers a transition to Pre-Novice for those completing either Beginner Obedience or Puppy Grad. Basic manners/obedience and exercises used in the Canine Good Citizen Test are emphasized. Gain more control on heeling exercises, getting your dog to come to you and exposure to confidence-building tools.

Proofing Games (Prerequisite: Beginner Grad or Puppy Grad):
Proofing Games uses games and distraction work to ensure that your dog understands commands regardless of the situation or environment. By utilizing games such as musical chairs and tic-tac-toe, as well as recalls, stays, and leash walking with distractions, you will learn how to reinforce commands out in public and in the "real world." This is a fun way to challenge your dog and continue to build good manners!

Impulse Control (Prerequisite: Beginner or Puppy Class)
 Are you looking to gain more focus and self-control from your dog in everyday social situations? Impulse Control is a great option for those coming from Beginner or Puppy class who would like to build more focus, attention and control before going on to learn more obedience commands. Manners, such as not jumping when people approach, not pulling on the leash to get where they want, and settling down during times of excitement will be the goals of this class.

Trick Dog Class (Prerequisite: Puppy Grad or Beginner Grad)
If you and your dog are bored or not quite ready for more advanced classes, but still want to build your relationship, this class is for you! This novice trick dog class is for beginner handlers & dogs looking to have some fun learning together! We will review the basics like watch me, sit, and down. Then we will build on those behaviors and learn tricks like rollover, spin circles, shake hands. You will have the opportunity to try all sorts of props like turning on/off a light switch, tunnels & jumps, opening a door, and pulling a wagon! But it's not just about the tricks. Handlers & dogs will also learn about reward-based training and different ways to teach a behavior.

Ring Proofing: (Prerequisites: Pre-Novice, Novice, or Competition Readiness Obedience)
Are you currently competing in Obedience trials or almost ready to do so? Ring Proofing will help provide you and your dog with real life situations and experiences that you may encounter in the Obedience Ring, ranging from distractions by other dogs to various environmental stimuli. The goal of this class is to help make your dog bomb proof in the Obedience Ring.

Rally Obedience (Prerequisite: Beginner Grad or Puppy Grad):
Rally is an AKC sport but also a great way to develop a working relationship with your dog, and have fun doing so! You will practice various turns, finishes, pace changes, weaving and get controlled walking down to an art. Great for those who wish to compete or just to have another way to train you dog. Open to anyone who has completed Beginner or Puppy. For more information about Rally, click here.

Pre-Novice (Prerequisite – Beginner Grad or Puppy Grad)
This class is for trainers who wish to learn more advanced training, while refining the basic skills that your dog has learned from a previous training situation. Watch your puppy or older dog blossom in the Pre-Novice Training class!

Novice Obedience (Prerequisite – Pre-Novice Obedience)
This training class is for those trainers who would like to pick up where the "basics" left off, enhancing your dog's already advancing skills! This class is geared towards those dogs, and their handlers who are training to compete in American Kennel Club (AKC) obedience competition trials and wish to attain the first obedience title of COMPANION DOG (CD). If you are an experienced trainer, just enjoy working out with your dog, and wish to advance your "team" obedience skills, sign up, get a work out and have some fun! If you like to take on some new challenges and spend quality exercise time with your canine partner, this is a class for you!
To view videos of the new AKC obedience exercises, click on the following link: https://www.youtube.com/channel/UCOmnrKKiM2kcaowVl3SXeVQ/videos

Competition Readiness Obedience
Competition Readiness Obedience is for dog/handler teams that are ready to prepare for obedience competition or are already competing at the Novice, Open or Utility level. This is a drop-in class, so no registration is necessary.

Open Floor Obedience
This is a drop-in class for people and dogs who have a solid foundation of obedience training and are preparing for competition. The class is self-directed and people can work on whatever skills they want. Pre-registration is not necessary. Drop-ins pay $5.00 per class.

SPECIAL CLASSES: Canine Nose Work
Click here for more information