ALL TRAINING CLASSES ARE OPEN TO BOTH MEMBERS AND NON-MEMBERS
FOR UPCOMING CLASS TIMES AND DATES, CLICK HERE
FOR OBEDIENCE CLASS REGISTRATION FORM, CLICK HERE
Puppy Obedience (under 6 months)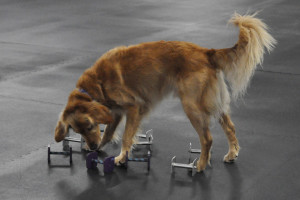 Puppy Obedience is the perfect way to give your puppy (under 6 months old) the right start in life. It is a fun and active class that is geared to the younger puppy's activity levels and attention span. This is a "manners and socialization" class, with an emphasis on fun and games for building the confidence of your new family member. Your puppy will learn what sit, down and stay mean and how to walk nicely on a leash. You will learn how your voice and body language can affect your puppy and the importance of getting your puppy used to being touched and handled. Puppies must be a minimum of 9 weeks old and have received the vaccinations appropriate for their age. They do not need to be vaccinated for rabies if under 4 months.
Adult Dog Obedience (6 months and older)
This class is designed for dogs 6 months and older who have had no previous formal training. You will work as a team with your dog on basic commands and manners which will begin to pave the way for a well-behaved family dog. Sit, down, stay, wait, leave it, attention exercises, coming when called and polite leash walking will be taught. Basic manners, such as dealing with jumping, will also be addressed.

Life Skills (Prerequisite: Puppy or Adult Dog Obedience)
This class will continue to work on your dog's basic manners and necessary life skills. Sitting politely for petting, polite leash walking, coming when called, as well as other fundamental life skills, will be the main focus of this class.
Obedience Skills (Prerequisite: Adult or Puppy Obedience)
This class focuses on more advanced obedience skills, including polite leash walking with turns and distractions, longer stays and recalls, and sitting politely for attention. Your dog will continue to develop focus on you and the ability to reliably respond to you in different situations.
Canine Good Citizen Prep Class (Prerequisite: Adult or Puppy Obedience)
The Canine Good Citizen program is based on the concept that all dogs should have enough basic training to be under control at home and in public. This test of your dog's manners and training is not a competition and does not require that you and your dog perform with precision. After completing this course, you and your dog will be ready to take the Canine Good Citizen test, which is offered twice yearly at the Winnegamie Dog Club. The class will train the behaviors evaluated in the test, including walking politely on a leash, reacting appropriately to another dog, coming when called, supervised separation, and sitting politely for petting. More information on the Canine Good Citizen test can be viewed on the WDC website at the following link: https://winnegamiedogclub.com/classes/obedience/canine-good-citizen-test/
Proofing Games (Prerequisite: Obedience Skills):
Proofing Games uses games and distraction work to ensure that your dog understands commands regardless of the situation or environment. By utilizing games such as musical chairs and tic-tac-toe, as well as recalls, stays, and leash walking with distractions, you will learn how to reinforce commands out in public and in the "real world." This is a fun way to challenge your dog and continue to build good manners!

Impulse Control, Part 1 (Prerequisite: Adult or Puppy Obedience)
This class is about getting your dog to focus. Using "dog's choice" type games, we are going to teach your dog the art of self-control and that "good things come to those who wait."
Impulse Control, Part 2 (Prerequisite: Impulse Control, Part 1)
Using the techniques learned in part 1, we are going to further work on you dog's self-control, but in more difficult situations, like loose leash walking, polite greetings, and basic recall.
Trick Dog Class (Prerequisite: Puppy or Adult Obedience)
If you and your dog are bored or not quite ready for more advanced classes, but still want to build your relationship, this class is for you! This novice trick dog class is for beginner handlers & dogs looking to have some fun learning together! We will review the basics like watch me, sit, and down. Then we will build on those behaviors and learn tricks like rollover, spin circles, shake hands, and more. But it's not just about the tricks. Handlers & dogs will also learn about reward-based training and different ways to teach a behavior. We will be using clickers, which will be available at the club for purchase or you are welcome to bring your own.

Ring Proofing: (Prerequisites: Pre-Novice, Novice, or Competition Readiness Obedience)
Are you currently competing in Obedience trials or almost ready to do so? Ring Proofing will help provide you and your dog with real life situations and experiences that you may encounter in the Obedience Ring, ranging from distractions by other dogs to various environmental stimuli. The goal of this class is to help make your dog bomb proof in the Obedience Ring.

Rally Obedience (Prerequisite: Obedience Skills):
Rally is an AKC sport but also a great way to develop a working relationship with your dog, and have fun doing so! You will practice various turns, finishes, pace changes, weaving and get controlled walking down to an art. Great for those who wish to compete or just to have another way to train you dog. Open to anyone who has completed Beginner or Puppy. For more information about Rally, click here.

Pre-Novice (Prerequisite – Obedience Skills)
This class is for trainers who wish to learn more advanced training, while refining the basic skills that your dog has learned from a previous training situation. Watch your puppy or older dog blossom in the Pre-Novice Training class!

Novice Obedience (Prerequisite – Pre-Novice Obedience)
This training class is for those trainers who would like to pick up where the "basics" left off, enhancing your dog's already advancing skills! This class is geared towards those dogs, and their handlers who are training to compete in American Kennel Club (AKC) obedience competition trials and wish to attain the first obedience title of COMPANION DOG (CD). If you are an experienced trainer, just enjoy working out with your dog, and wish to advance your "team" obedience skills, sign up, get a work out and have some fun! If you like to take on some new challenges and spend quality exercise time with your canine partner, this is a class for you!
To view videos of the new AKC obedience exercises, click on the following link: https://www.youtube.com/channel/UCOmnrKKiM2kcaowVl3SXeVQ/videos

Competition Readiness Obedience
Competition Readiness Obedience is for dog/handler teams that are ready to prepare for obedience competition or are already competing at the Novice, Open or Utility level. This is a drop-in class, so no registration is necessary.

Open Floor Obedience
This is a drop-in class for people and dogs who have a solid foundation of obedience training and are preparing for competition. The class is self-directed and people can work on whatever skills they want. Pre-registration is not necessary. Drop-ins pay $5.00 per class.

SPECIAL CLASSES: Canine Nose Work
Click here for more information