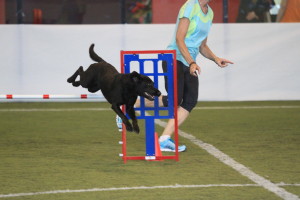 It's an obstacle course where your pooch will barrel through tunnels, fly over jumps, scale catwalks (just don't call them that!) and wind their way through weave poles. It's fun for dogs and even more fun for owners and spectators. It is one of the fastest-growing dog sports in the USA!
Dogs are judged on speed and accuracy. They have to complete the course in an allotted time frame, but most important, they have to do it by completing each obstacle correctly and in the right order. This might seem like work but to a dog this is FUN!  All healthy dogs can do agility—ranging from the very small to the very tall. Dogs are divided by height in order to make the competition equal among the different sizes of dogs. It's an even playing field… and there's lots of playing!
How to Get Started
Your dog needs basic obedience training before they start agility. Also, dogs' growth plates should be closed before they start jumping, weaving and performing full-height obstacles. If you have a puppy or young dog, get your veterinarian's advice before starting agility training.
Teamwork Class (6 weeks)
The goal of this class is to build a working relationship between dog and handler in preparation for working off-leash in a stimulating environment, such as agility or rally. Through a variety of games and exercises, you will work on your dog's focus, drive and impulse control. This course is a prerequisite for Beginner Agility.
Click here to register for the Teamwork Class.

Beginner Agility – Introduction to Agility (6 weeks)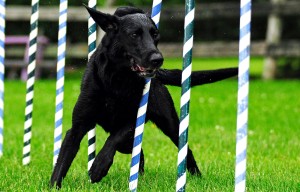 (Prerequisite: Teamwork Class)
This class introduces the skills needed to run an agility course, including focus, flatwork (similar to heeling, but working on both sides,) targeting and recalls. It also introduces jumping skills, basic turns and transitions. The contact obstacles are introduced, but at lowered height to build confidence. The table, tunnel, chute and weave poles are also introduced in this class.
Click here to register for the Beginner Agility Training Class.

Advanced Beginner Agility Training Class – Introduction to Coursework (6 weeks)
(Prerequisites: Teamwork and Beginner Agility Class)
This class builds on the skills from Beginner Agility, teaching basic handling sequences, such as turns, pinwheels, and serpentines. Contact obstacles will gradually be raised to full height by the end of the session. Handlers will learn to walk a course and plan their strategy for running it. As the dogs and handlers gain confidence, we will work on speed and fluidity of movement.
Click here to register for the Advanced Beginner Agility Training Class.

Novice Agility Prep Class (6 weeks)
Prerequisites: Teamwork, Beginner Agility, and Advanced Beginner Class
This class takes the skills you learned in Advanced Beginner Agility and helps you put them all together and navigate a Novice Agility Course. By the end of this class, you will have the knowledge, skills, and confidence to enter your first agility trial. We will go over all aspects of competing including how to enter your dog, measuring your dog, walking a course, and a typical day at a trial. You will be taught the different volunteer roles needed to run a trial, so please bring a crate for your dog to be in throughout class so your dog can be kept safe while you are helping.
Click here to register for the Novice Agility Prep Class.
Intermediate Agility drop-in Class – Coursework
(Prerequisite: Advanced Beginner Agility)
For those interested in competing in agility (and who have completed the Teamwork, Beginner Agility Class and the Advanced Beginner Class), the Intermediate Agility Training class will help you put it all together. Each week there will be a course or sequence for you to analyze and run, trying various techniques to see what works best for you and your dog. All contacts will be at full height, so your dog should be confident on these before taking this class.
This is a drop-in class — $5.00 per class (free for WDC active members)

Novice Agility drop-in
(Prerequisites: Beginner Agility, Advanced Beginner Agility)
April 27 – Novice Standard – focused skill: obstacle discrimination
May 11 – Novice Jumpers – focused skill: serpentines & pinwheels
May 25 – Novice FAST – focused skill: distance
June 8 – Time 2 Beat – focused skill: weave poles
This is a drop-in class — $5.00 per class (free for WDC active members)
Advanced Agility Handling (6 weeks)
(Prerequisite: dogs should be competing at the Open, Excellent, or Master level)
Will be offering Excellent/Master level sequences to work on various handling techniques.  This will present you with chances to try sequences with various handling options that are available!  The sequences will be from various local trials and some from Internet.
Click here to register for the Advanced Agility Handling Class.