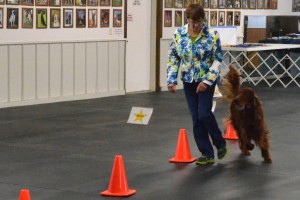 Rally offers both the dogs and handlers an experience that is fun and energizing. The canine team moves at their own pace, very similar to rally-style auto racing. Rally was designed with the traditional pet owner in mind, but it can still be very challenging for those who enjoy higher levels of competition.
A rally course includes 10 to 20 stations, depending on the level. Scoring is not as rigorous as traditional obedience. Communication between handler and dog is encouraged and perfect heel position is not required, but there should be a sense of teamwork between the dog and handler. The main objective of rally is to produce dogs that have been trained to behave in the home, in public places, and in the presence of other dogs, in a manner that will reflect positively on the sport of rally at all times and under all conditions.
Advanced Rally Obedience
The advanced rally class is designed for those who have completed beginning rally obedience class and wish to continue to become proficient in rally obedience. The focus will be building on the basic rally training and consist of improving performance through practice and testing of the handler/dog team's understanding, use of distractions and specific training techniques as identified by class members.
Levels of Competition
Novice
This is the first level for those just getting started in competition. All exercises are performed with the dog on leash. There is a requirement of 10-15 stations to complete with no more than five stationary exercises. The exercises performed vary from turning 360 degrees to changing paces during the course. Exhibitors at this level may clap their hands and pat their legs through the course.
Advanced 
This is the second level, which includes more difficult exercises throughout the course.
All exercises are performed off-leash. There is a requirement of 12-17 stations with no more than seven stationary exercises. Exercises include a jump as well as calling your dog to the front of you instead of to a heel position.
Excellent
This third and highest level of AKC Rally is the most challenging. Exercises are performed off-leash except for the honor exercise. There is a requirement of 15-20 stations, with no more than 7 stationary exercises. Handlers are only allowed to encourage their dogs verbally. Physical encouragement is not allowed at this level.
The Winnegamie Dog Club offers Rally Classes on a regular basis. The trainers have titled their dogs in this fun sport and have lots to offer for handlers and their dogs whether or not competition is in the future.
FOR A DOWLOADABLE PDF OF RALLY SIGNS, CLICK HERE
Free K9Rally app for Android phones: https://goo.gl/UvZ9ce
Pocket Rally for iPhones is available for a small fee from iTunes