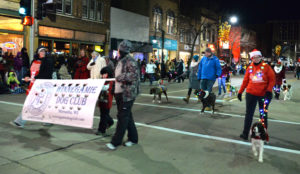 The Appleton Downtown Christmas Parade is scheduled for Tuesday, November 20th, 2018. The parade begins at 7:00 PM at the corner of State Street and College Avenue in downtown Appleton. It travels east on College Avenue to Drew Street.
"Home for the Holidays" is this year's parade theme, with about 80 units including floats, decorated vehicles, walking units and animal entries.
Each year, over 80,000 spectators attend the parade. This year's parade will be televised live by WFRV-TV. Local Channel 5 will also videotape the parade for rebroadcast on Nov. 24 11:00 am – 12:30 pm and Dec. 25 5:00 am – 6:30 pm.
For more information, contact Penney Garbe: penney_garbe2000@yahoo.com 920-858-7441
Staging information and maps are available at the following link: 2018 Appleton Christmas Parade info